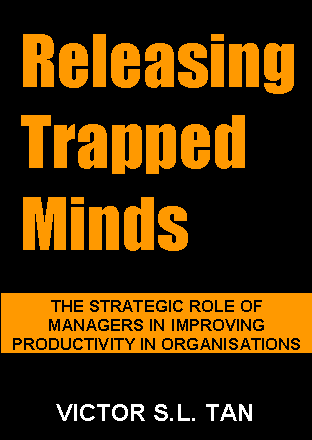 The Strategic Role of Managers in Improving Productivity in Organizations
by Dr Victor S.L. Tan
Ceo of KL Strategic Change Consulting
The greatest waste in human resource is the trapped minds in organisations. A trapped mind is unable to adapt, change and grow. It stifles the capability and resourcefulness of a person. It is neither imaginative nor creative. It is retrogressive, not progressive. It cannot innovate and come up with new solutions. Releasing Trapped Minds is certainly imperative for leaders and executives who want their organisations to be progressive and successful. This book provides a detailed guide on how to get the best out of people and how to release trapped minds to improve the productivity and profitability of organisations.
The book explains in detail:
​
How to open minds and win commitment
How to overcome adversity
How to create opportunities
How to lead with excellence
Table of contents:
Preface
About The Author
I. Transforming Mindsets
Understanding People's Mindsets

Five Critical Ways To Transform Mindsets

Opening Minds And Winning Hearts

The Trapped Minds In Organisations

Releasing Trapped Minds For Higher Productivity
II. Overcoming Adversity
Using Adversity To Advantage

How To Manage Adversity

Detecting Early Warning Signs

How To Turnaround Companies

Effective Ways To Manage Crises
III. Managing Opportunities
Managing Tough Times

How To Create Opportunity-led Change

Strategies To Win Customers During Challenging Times
IV. Motivating People And Visioning
Changing The Way We Motivate People

Developing Vision To Motivate People

Developing Learning Organisations
V. Leadership And Excellence
Transcendental Leadership

Lessons Of Change From Science

The Power Of Leadership

Creating Change Winner Through Leadership
Product Details:
Format: eBook (.pdf)
File Size: 549 Kb
No. Of Pages: 227 pages
Price: US $4.99
Customer Reviews:
"… Victor's latest book is a must-read for all CEOs and managers who want to increase the performance of their organisations."
-Tan Sri Dato' Dr Teh Hong Piow
President & Chief Executive Officer, Public Bank Berhad, Malaysia.
"This is a powerful book … Read this book before it is too late."
-Mr Chew Liong Kim
Managing Partner, Arthur Anderson Business Consulting, Asean Chairman of Malaysia Bereau of Consultants
"Victor Tan has, very ably, managed to identify and integrate the crucial elements of good management that all senior managers should be acquainted with in leading their organisations".
-Dr Tarcisius Chin
CEO, Malaysian Institute of Management
"This book helps examine the key elements within you and change your mindset from being a victim to a creative force that will transform your life. It was for this reason that Mr Victor Tan was appointed as a consultant to initiate the corporate culture change programme in Sistem Transit Aliran Ringan Sdn Bhd."
-Encik Zainal Abdul Ghani
CEO, Sistem Transit Aliran Ringan Sdn Bhd
"In my years of handling organisation transformation, I have always been fascinated by the fact that employees can unleash new strengths from within them when their minds are sufficiently tickled into positive action. Victor's book provides excellent insights into this aspect. It has valuable pointers that can help leaders get the best out of the workforce."
-Encik Abdul Samad Mohamed
President., The Chartered Institute of Transport, Malaysia, CEO, Kelang Container Terminal